Rendeece – Endgame Sessions part I – It Must Be Nearly Finished
Greek electronic experimental producer Rendeece on his resident show on RAR!!
Blog: https://weirdparad-aze.blogspot.gr
Tmblr: https://www.tumblr.com/blog/rendeece
Bandcamp: https://rendeece.bandcamp.com
Soundcloud: https://soundcloud.com/chico79er
This mixtape is the first part of a small series of mixtapes that came up as a physical response to the worldwide situation related to COVID-19 pandemic. Artistic-wise the main reference point being Samuel Beckett's "Endgame".
While living this strange period of "waiting" isolation, two questions kept coming up: "when all these will end" and "how are we going to begin again". An immediate urge to dig once more Samuel Beckett's body of work started surfacing and Endgame seemed like a perfect match. By the first phrase of Hamm: "Finished, it's finished, nearly finished, it must be nearly finished", it was clear that I had just found my canvas. Not long after that intriguing encounter, I caught myself following Beckett's thread to the center of Endgame's maze.
At the same time, I was recording my everyday life in my house, being the kitchen, the bedroom or even the balcony and spending most of my time in the home studio. A lot of hours working with several synthesis tools, my eurorack synthesizer as well as various creative plugins in the digital workstation. And… this is how this mixtape came into life.
Obviously, living in a convenient apartment in Greek province during springtime with my partner is not so grey and gloomy or miserable as of let's say Endgame's world. This is quite apparent in the mixtape too. But still… the threatening atmosphere, the malicious effects in our reality in some way or another are "operating" either in our conscious layers (how our everyday life has changed) or in the underflow, in the mazes of our subconscious.
To sum up, I have never hide my personal fascination for mazes and labyrinths as my favorite symbols of life and cosmos, nor for theater and drama. This mixtape is not an exception. For this one I chose the theater reference to be represented throughout the track titles. All of them are quotes from Beckett's play being phrases or even dialogue. Always in a playful manner even if they clearly represent a quite claustrophobic situation. Even if they seem so relevant to our current lives.
Download: https://rendeece.bandcamp.com/track/endgame-sessions-part-i-it-must-be-nearly-finished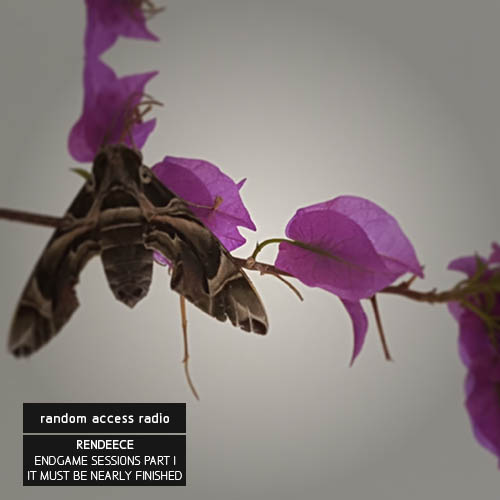 Tracklist:
Rendeece – Finished, it's finished, nearly finished, it must be nearly finished.
Rendeece – … my kitchen, ten feet by ten feet by ten feet… I'll lean on the table, and look at the wall…
Rendeece – What time is it? –The same as usual. –Have you looked? –Yes. –Well? –Zero.
Rendeece – Have you not had enough? –Yes! Of what? –Of this… this… thing. –I always had. Not you? –Then there's no reason for it to change. –It may end.
Rendeece – I'll give you nothing more to eat. –Then we'll die. –I'll give you just enough to keep you from dying. You'll be hungry all the time. –Then we won't die.
Rendeece – You don't love me. –No. –You loved me once. –Once! –I've made you suffer too much. Haven't I? –It's not that. –I haven't made you suffer too much? –Yes! –Ah, you gave me a fright! Forgive me…
Rendeece – Why don't you kill me? –I don't know the combination of the cupboard.
Rendeece – Nature has forgotten us. –There's no more nature. –No more nature! You exaggerate. –In the vicinity. –But we breathe, we change! We lose our hair, our teeth! Our bloom! Our ideals! –Then she hasn't forgotten us. –But you say there is none. –No one that ever lived ever thought so crooked as we. –We do what we can. –We shouldn't.
Rendeece – It's the end of the day like any other day, isn't it? –Looks like it.
Rendeece – Are you cold? –Yes, perished, and you? –I'm freezing. –Do you want to go in? –Yes. –Then go in. Why don't you go in? –I don't know.
Rendeece – If I could sleep I might make love. I'd go into the woods. My eyes would see… the sky, the earth. I'd run, run, they wouldn't catch me… There's something dripping in my head. A heart, a heart in my head.
Rendeece – Are you crying again? –I was trying. –Perhaps it's a little vein. –What was that he said? –Perhaps it's a little vein. –What does that mean? –That means nothing.
Rendeece – Have you not finished? Will you never finish? Will this never finish?