MOVEMENT RADIO :: RRITA JASHARI aka I LIRR I aka LIL RRIRRI aka Riri Le Fol
SHQIPE DANCEHALL BWITCHESSS
BXHELL to PRISHTINA AND DI REST OF DI WORLD – WIDE WEB – DANCEHALL – DIASPORACTIVSMS – FREEDOM FIGHTERS ? ?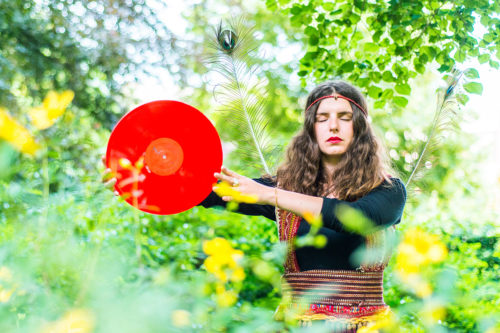 Rrita Jashari (1989) was born in Prishtina, Kosovo and moved to Belgium with her family at age 3 because of the political situation in the motherland. She grew up in a musical family and since a young age, has been involved in several projects that combine music and social activism.
She's one of the founders of the Brussels based 54KOLAKTIV and 54 Sound, a Jamaican style handcrafted soundsystem. Since 2017, she has been working as a promotor at VK Concerts in Molenbeek – the Brussels hellhole where the party never stops because the terrorists are so nice and lifeloving – and has a twomonthly residency at Kiosk Radio, where she salutes the king in his Palace.
In her DJ-sets, she likes to make people discover music by blending sounds from various eras and areas, ranging from experimental and traditional music to dancefloor bangers or poppy stuff – all of this depending on her mood, the context, place and public and the task she has been given. No music purism here, only pum pum princesse powah and freedom tunes !
This one is for mi BAD GYALS and my WITCH HAREM, my day 1 inspirations.
facebook, instagram, mixcloud
—
Broadcasted on 11/1/2021 on Movement Radio.
Tracklist:
ALBANIA CLASSICS (Folklore Instrumental Albanais – Disques Vendémiaire)
Zumare
FREEZE CORLEONE
Mage noir
POPCAAN
Father God Ah Lead
PROTOJE
Self defense
WARZOU
J'irai dormir chez Mouss
VYBZ KARTEL
Rep
GJIKO ft. LUMI B & LEDRI VULA
Shtrejt
KALI UCHIS, JHAY CORTEZ
la luz (Fin)
GIFTA ft KALASH X MrSM
Fuck police
KIDDA X S4MM
Komedi
PLK FT HAMZA
Pilote
YOUNG ZERKA
Harem
SEAN PAUL & LEFTSIDE
Dem nuh ready yet
BUSY SIGNAL
Go shot
TAYNA X DAFINA ZEQIRI
Bye Bye
STEFFLON DON
Move
BURNA BOY FT. STORMZY
Real life
STYLO G
Oh Lawd
BOKOESAM
Systeem
ASMARA
Deviant eyes
G SUDDEN
Skin get bun
JOBAA
Bad boy (Yoruba demon)
RONELA HAJATI
Pare
FREEZE CORLEONE
Hors ligne
BOY BETTER KNOW
Red card
LE JUIICE FT MERYL
O NONO
ALBANIA CLASSICS (Folklore Instrumental Albanais – Disques Vendémiaire)
Surle E Daulle